Ahrefs is one of the most powerful keyword planning and search engine optimization tools offered online. However, users do have their gripes. Whether you're tired of the fairly high Ahrefs pricing, or you're interested in a more simplistic interface that provides immediate solutions, as opposed to the mounds of somewhat complicated data offered through Ahrefs, we've found the best Ahrefs alternatives to solve your problems.
Keep reading to learn about Ahrefs alternatives that include similar features with a few unique elements involved. Some of the best alternatives undercut the Ahrefs pricing by quite a bit, while others offer features you can't find anywhere else. 🤩
We'll talk about what it'll cost to transfer to an Ahrefs alternative, along with the details and features you'll want to know before making a move.
We suggest you visit each site from the Ahrefs alternative listed below. Start by taking a look at the pricing. If it's in your budget, consider signing up for a free trial or testing out the tool's demo.
We'll outline the must-know information about each option, but it's highly recommended that you also test out the interfaces yourself, as you'll be spending quite a bit of time inside the dashboard of this primary SEO tool of yours.
Best Ahrefs alternatives for SEO and keyword analysis
Here are the best Ahrefs alternatives that made the final lineup:
Best value for money

among Ahrefs alternatives 🤑

Mangools attempts to present a more modern, barebones approach to competitor analysis and search engine improvement.

The dashboard interface is made for all types of users, beginners and advanced, and it offers features to find the right keywords, track rankings, and build powerful backlinks to boost search engine results. The competitor tracking comes in handy as well.
We would argue that Mangools is one of the best online marketing and keyword research tools for the money. It cuts down on the large feature-set you would find from Ahrefs but saves you money by only sticking to essentials. Not only does this make for a friendlier user experience, but you're putting more money back in your pocket.
⚙️ Features:
Keyword searching to locate longtail keywords and hone in on local and global keywords.
Search volume and keyword metrics that are clearly laid out and explained for beginners.
SERP analysis and SEO metrics to understand where your website stands in comparison to other ones.
Importing tools to bring in keywords and figure out which are the best for targeting.
Filtering options to eliminate the keywords that don't make you any money.
A SERP checker module that compares your site with the competition and spies on other companies.
Options to track detailed information from desktop and mobile results, along with daily keyword updates and performance metrics.
Something called a LinkMiner, which identifies powerful backlinks that you can evaluate, preview, and save to your favorites.
A SiteProfiler tool to evaluate the health of your search engine results and counter what your competition does.
💵 Pricing:
Mangools offers monthly and yearly plans. The monthly plans are significantly cheaper than those of Ahrefs, and the yearly packages make things even more affordable.
Here's a look into what to expect to pay (billed annually):
Basic – $29.90 per month.
Premium – $39.90 per month.
Agency – $79.90 per month.
All Mangools plans start with a 10-day free trial and you can always upgrade or downgrade your account.
You may also be interested in: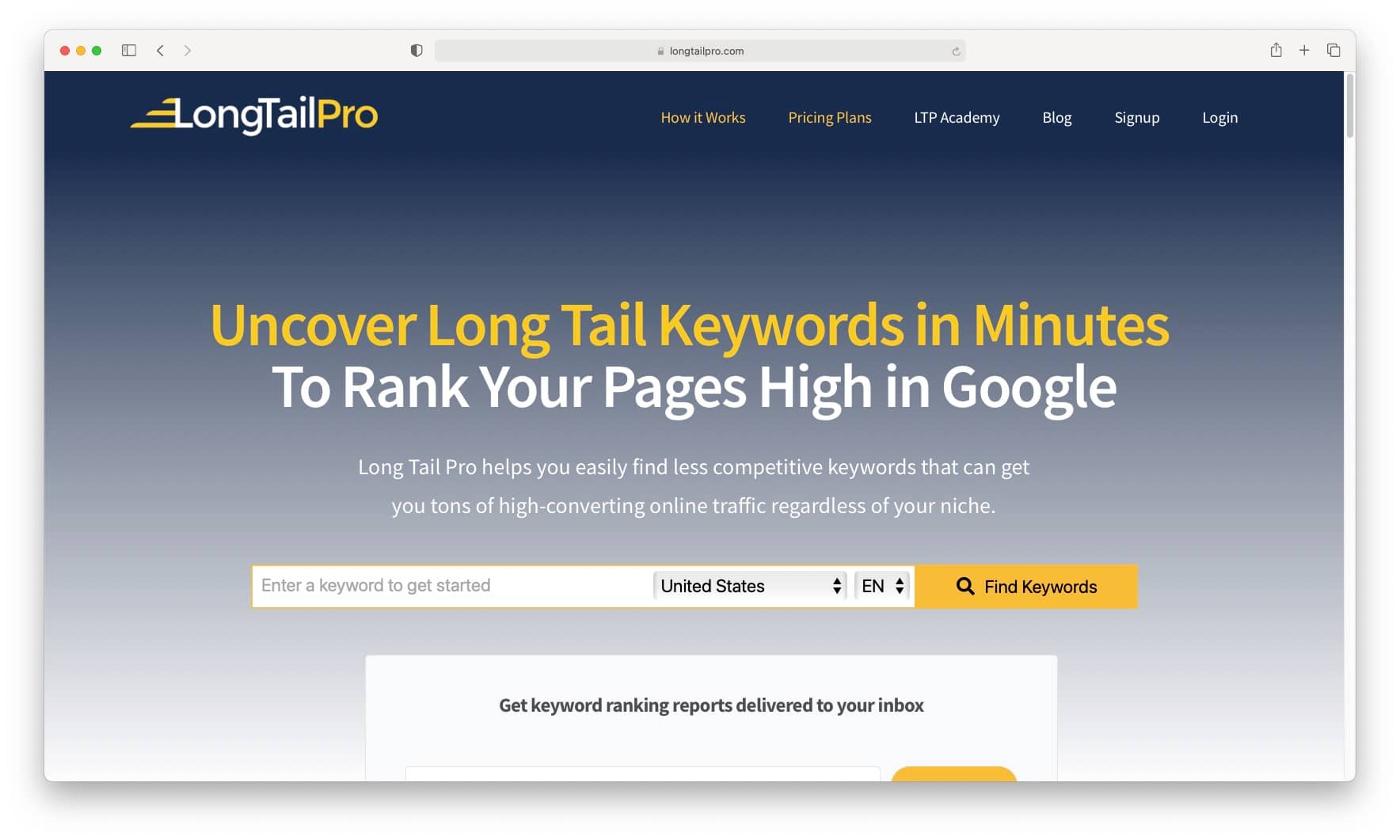 Cheapest

of the Ahrefs alternatives 🤑

LongTailPro is a viable Ahrefs alternative for a wide variety of reasons. To begin, LongTailPro asks you to enter keywords that relate to your website. It then delivers hundreds of suggestions to improve your SEO and compete with other companies.

You can run a keyword and competitor analysis based on SEO metrics and figure out the keyword profitability based on how well it has done in the past and how costly it'll be to target that keyword.
There's even a rank tracker to keep in touch with all rankings online and get notified when your rank slips or needs improvement in certain areas.
Compared to Ahrefs, LongTailPro has a similar interface and slightly modified tools that focus more on seeking out keywords and improving your search engine rankings. It's not quite as complex as Ahrefs, yet the pricing for LongTailPro is far less expensive.
⚙️ Features:
Keyword research that looks up the right keywords and calculates their effectiveness if you put them in your content.
SERP analysis to take a look into how your results compare with other companies and to improve those results in the process.
Rank tracking that includes ranking updates and numerous tracked domains for those with lots of websites.
A full tracking page that brings together every aspect of the LongTailPro analysis for quick reports.
Long tail keyword generators and suggestions that take the more common keywords and blend them with other phrases and words so that you're targeting the most effective combinations.
Competitor tracking and spying that details what's going on with those companies and gives you suggestions based on their own content strategies.
💵 Pricing:
LongTailPro offers a 7-day free trial to gain access to the most advanced features for a period of time. You can also choose between monthly and yearly plans, of which the yearly packages are cheaper.
Here's the pricing when billed annually:
Starter – $25 per month.
Pro – $45 per month.
Agency – $98 per month.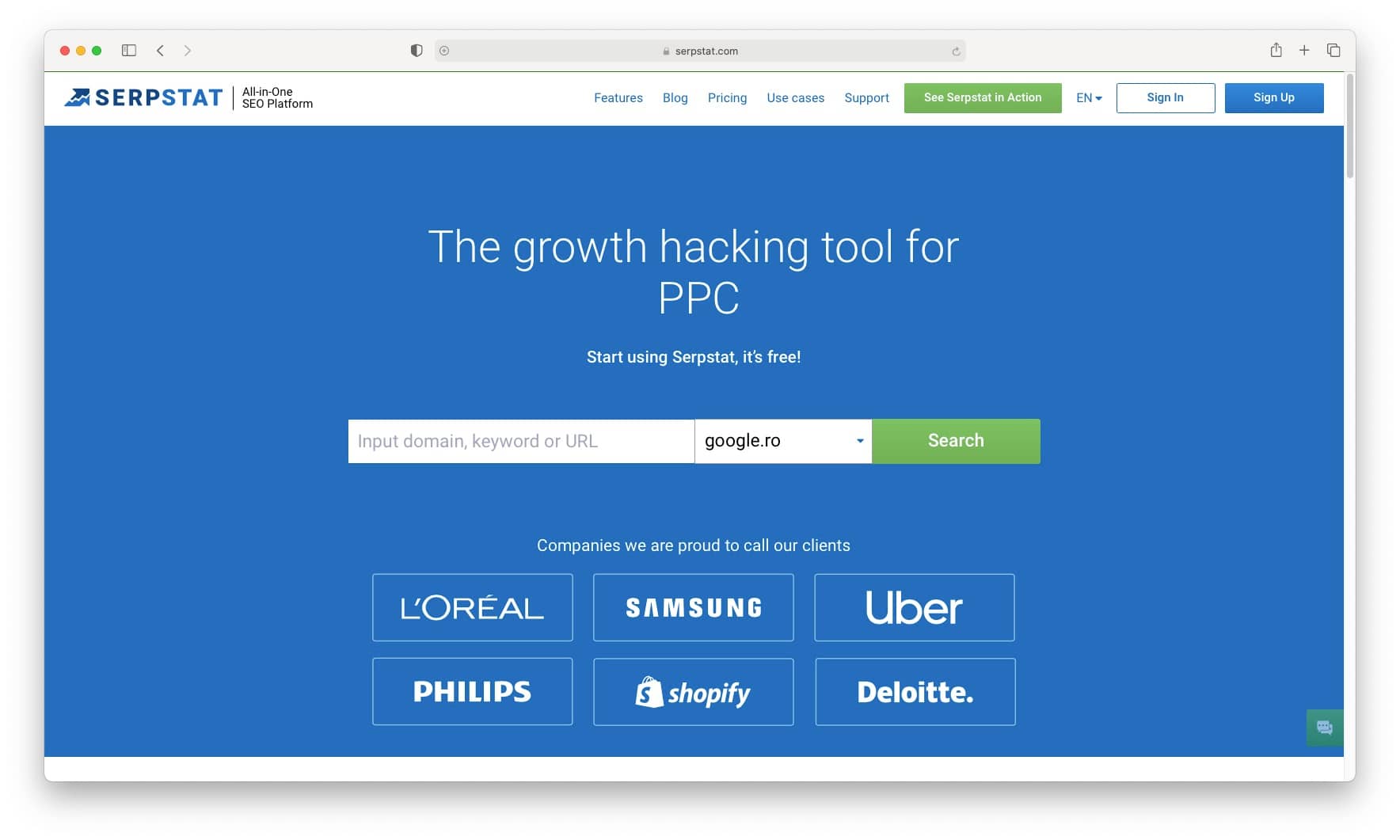 Serpstat markets itself as an SEO, PPC, and content marketing tool wrapped within the basics of domain and keyword analysis.
It's one of the best Ahrefs alternatives for a reason, and it mainly comes down to the price and overall structure of the system.
In general, Serpstat is rather congruent with the features provided by Ahrefs. That said, we find that some of the reports, API tools, and on-page audits are more advanced.
From keyword research to advertising analysis, Serpstat packs quite the punch into a nice suite of SEO tools. You can dive into rank tracking and check market intelligence to figure out what's working and what's not. The content market ideation is perfect for running a blog or social media platform, and the basic keyword research does the trick as well.
⚙️ Features:
Backlink analysis with data pulled into the system with one click and full backlink data from several months to check on strategies from competitors.
A developer-friendly API that merges third-party systems and feeds new data into your portal that gives you a leg up.
Reports and infographics that boast beautiful designs, data visualization, and email alerts.
An on-page audit with a rich combination of tools. For instance, you can run a links verification test and check for missing pages at the same time. There are also options for finding duplicate content, bad images, and missing pages.
Market intelligence rankings and research that taps into global data to keep an eye on what separates you from the leaders in your industry.
Rank tracking and competitor research with notifications on when to get to work on certain rankings improvements.
Content marketing ideas to bring about better keywords and track shares on Facebook.
Advertising and search analysis with keyword discovery, competitor research, and much more.
Standard search analytics and keyword research with unique tools for discovering international data and checking the relevance of specific webpages on your site.
💵 Pricing:
Serpstat undercuts Ahrefs a bit on price. You'll be able to save a little money in the long run, especially if you opt for the annual plans. Having said that, monthly pricing is also available.
It appears there's no free trial offered when signing up for Serpstat.
The pricing is as follows (billed annually):
Lite – $55 per month.
Standard – $119 per month.
Advanced – $239 per month.
Enterprise – $399 per month.
If the Enterprise plan doesn't offer enough data, you're able to contact the Serpstat sales team to get set up with a more customized and demand-worthy system.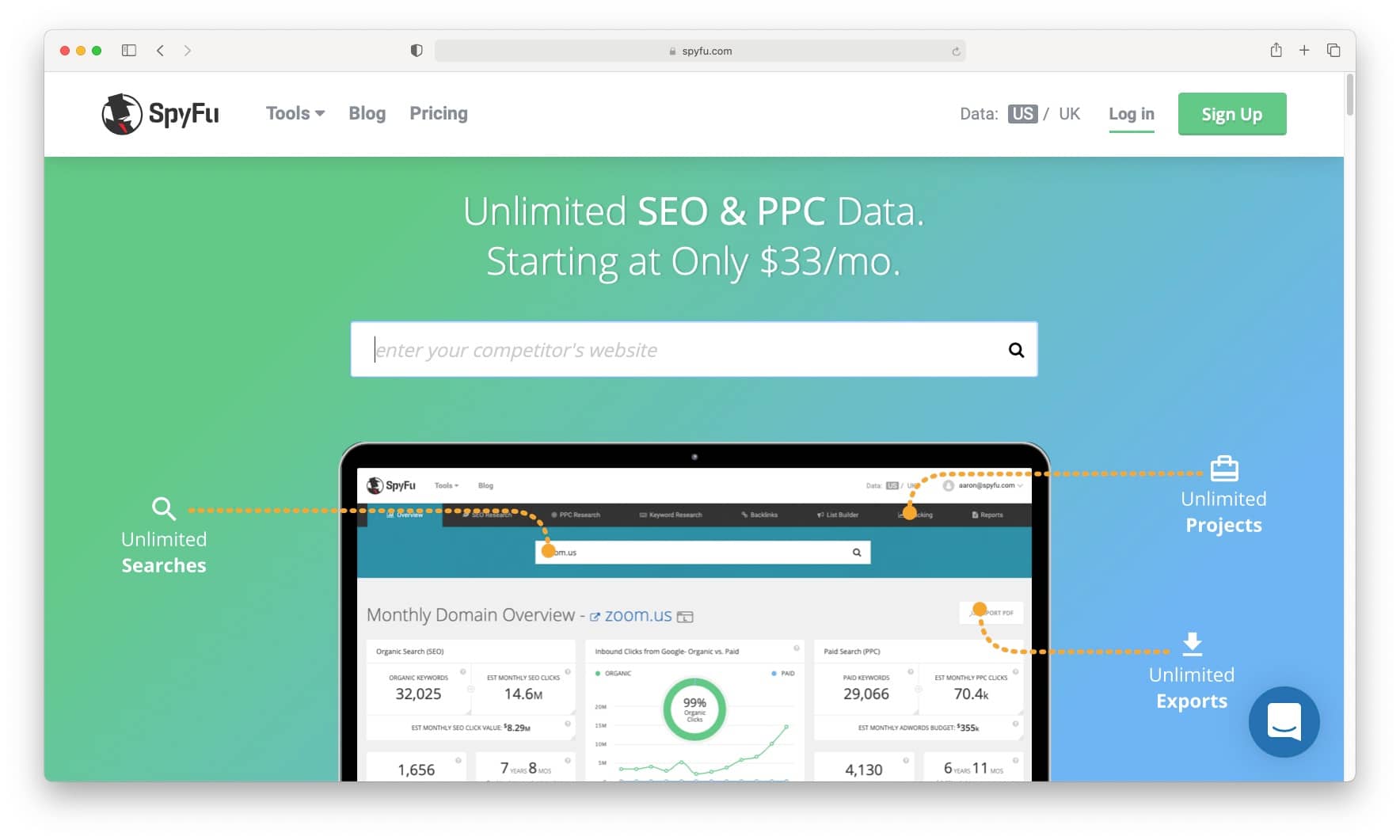 Spyfu tells a story with your website data and it all starts with SEO research. This is a respectable yet somewhat limited alternative to Ahrefs, in that it provides PPC research, keyword research, and a few extra features like a SERP checker, domain overview, and keyword rank checker.
So although this alternative is a bit watered down compared to Ahrefs, for many businesses, that's exactly what they need.
The dashboard is much easier to understand than Ahrefs, there's hardly any learning curve or need to train new employees on the software, and you get Spyfu for a small fraction of the price of Ahrefs.
⚙️ Features:
SEO reports and a SERP tracker to visualize how your website performs on the search engines.
A domain overview panel that aggregates all data from around the web about your site.
Multiple tools for keywords, including a keyword rank checker, a research tool, and a backlink checker.
PPC research with keyword suggestions.
Google Ads templates and competitor analysis.
💵 Pricing:
Spyfu doesn't have a free trial, but it does offer a 30-day money-back guarantee if you're not satisfied with the product. There are monthly and annual plans for each package, so you can save money when paying for a full year.
As for the pricing, here's what you can expect (billed annually):
Basic – $33 per month.
Professional – $58 per month.
Team – $199 per month.
Best overall

Ahrefs alternative 🏆

Although not any cheaper than Ahrefs, many would argue that Semrush is the closest competitor to Ahrefs due to its similar feature-set, pricing that's not far off from Ahrefs, and a high-quality customer service team.

Semrush combines competitor research, pay-per-click marketing, social media, and content marketing, just to name a few of the tools, into one platform to research content ideas before using them and to spy on your competitors.
Semrush has a strong focus on data analysis, using a complete and simple collection of statistics brought together to guide you in your marketing and search engine marketing. Overall, Semrush is quite similar to Ahrefs, but many would argue that the interface is cleaner and you have so many online resources and tutorials to guide you along the path to success.
👉 Here's a head-to-head comparison between Semrush and Ahrefs.
⚙️ Features:
A keyword research module to help you target the best keywords for your niche.
On-page SEO that improves your search engine health and gives you ideas for moving up the rankings.
Web monetization options to link up to things like AdSense and affiliate programs.
A pay-per-click research module that allows you to build a PPC campaign and find the right keywords in the process.
Competitor monitoring that taps into ads placed by your competition.
A full market analysis that identifies areas of improvement.
Content optimization to help you decide on topics and make content that connects with your audience.
Tools for creating your content and distributing it to the right outlets.
Link building and competitor SEO analysis, all wrapped into a beautiful area to expand your reach online.
Rank tracking that notifies you when you move up or down in the rankings.
Local SEO that targets specific locations and ensures that you're able to get more local customers.
Social media management that enables automated posting and analytics to understand which content works the best on social media.
💵 Pricing:
The Semrush products are billed either annually or monthly, with the annual plans being a litter cheaper in the long run.
Here's a look into the monthly pricing when billed annually:
Pro – $108.33 per month.
Guru – $208.33 per month.
Business – $416.66 per month.
Custom solutions are available if you call the sales team to figure out your own pricing plan. You can also demo Semrush with the 7-day free trial.
A summary on the best Ahrefs alternatives
Of course, you're welcome to make your own decision when picking the right Ahrefs alternatives for you, but here are our recommendations:
⭐ If you're looking for an option cheaper than Ahrefs but still somewhat similar, go for Mangools (first), or Spyfu and LongTailPro (second).
💪 If you want more of a direct duplicate but you're interested in a fresh interface with alternate features, think about Semrush or Serpstat.
For any further questions about the best Ahrefs alternatives, leave us a comment below!
…
Don't forget to join our crash course on speeding up your WordPress site. Learn more below:
Layout and presentation by Chris Fitzgerald and Karol K.