Affiliate marketing strategies are some of the most important tools that an influencer can wield. Without a solid plan, your sales may not be living up to their potential. However, finding the perfect approach can be challenging for even the most seasoned bloggers.
Fortunately, there are a few tried-and-true methods that almost anyone can take advantage of. By understanding how to execute the top affiliate marketing strategies, you can drive more sales than ever before.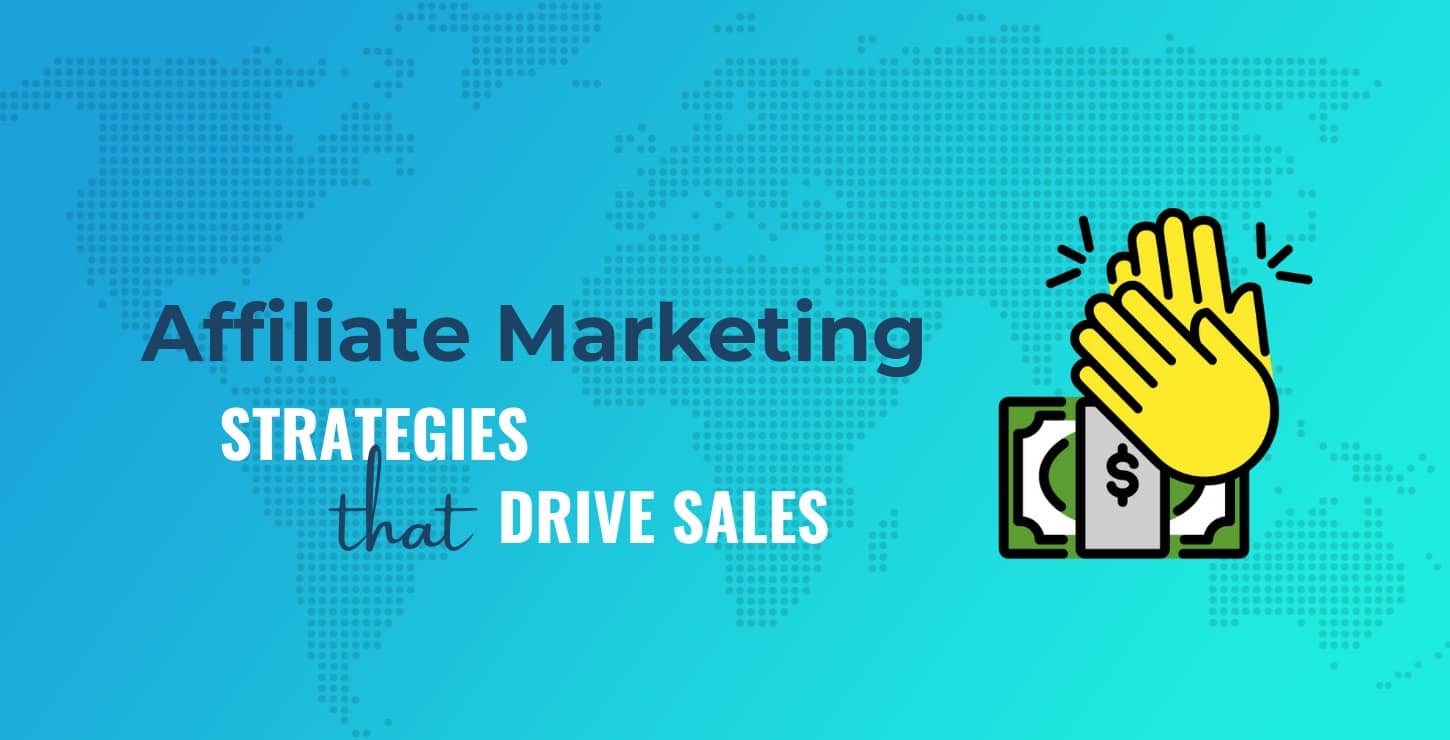 In this article, we'll walk you through ten effective ways to boost your affiliate conversions. We'll also provide a few tips and examples to help you begin. Let's dive right in!
1. Show the concrete value of products in your content
Whether you're advertising digital or physical products, almost every item is trying to offer value to customers. Showcasing this value is essential to entice users to make purchases. That means you can't rely solely on directing visitors to a sales page – you should try to demonstrate the practical benefits of the products clearly, too.
This is because people rarely purchase products without at least an idea of why they're doing it. Typically, customers are either motivated by solving a problem or satisfying a desire. As such, the most effective affiliate marketing strategies highlight precisely how a product meets these needs.
Try to include product benefits as prominently as possible in your advertising. One way to do so is with evocative high-quality photos.
You can take the Instagram page Aussie Sedona as an example: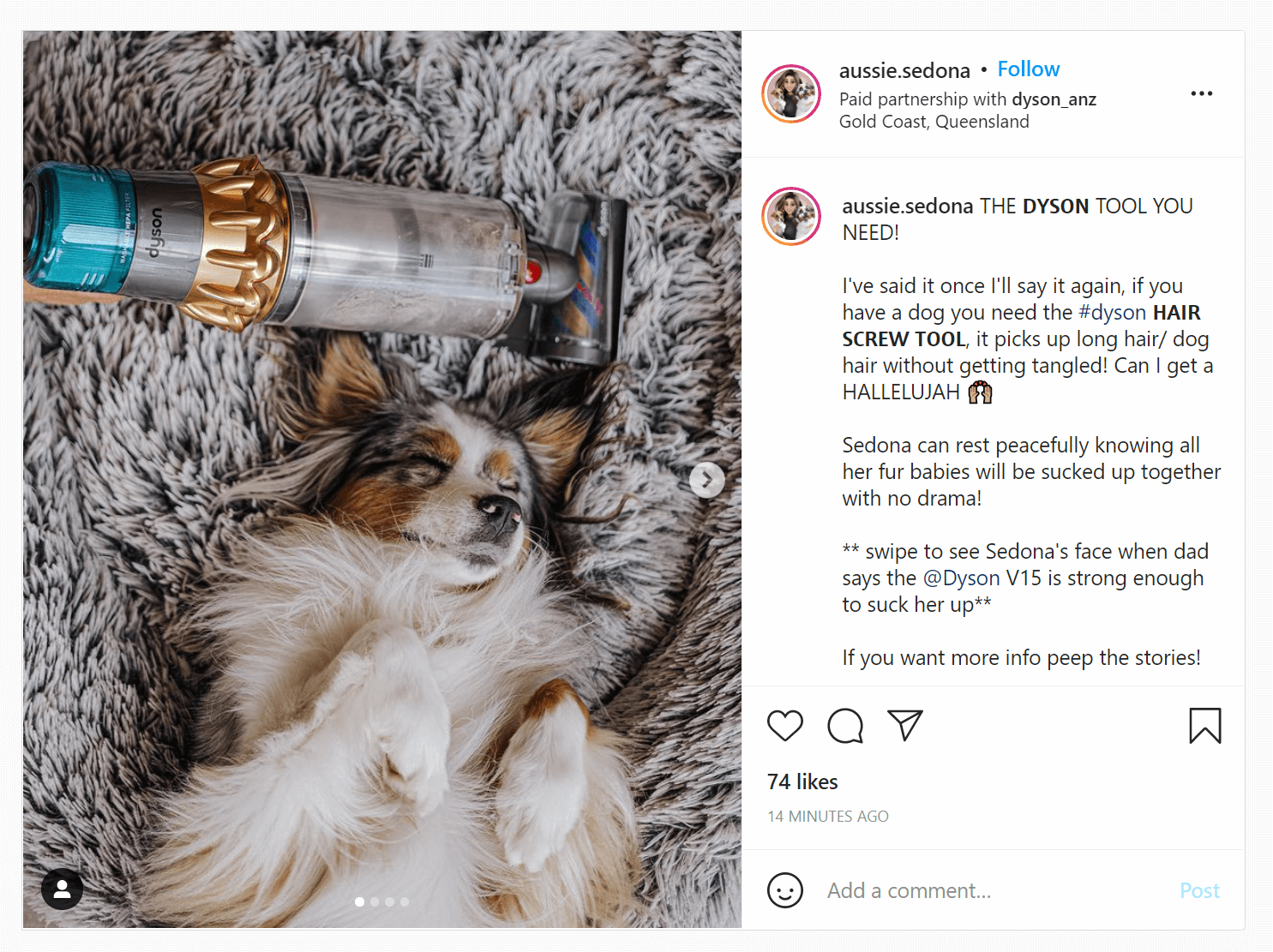 The photo is simple yet effective: most visitors will probably understand the relationship between a vacuum cleaner and a shedding dog. As such, they may be more likely to further investigate what this product has to offer.
Nevertheless, not every product lends itself to photos. If you're advertising software, for example, consider taking a number-driven approach instead. Showing precise data on how much time or money a tool saves can give a practical reason for your users to purchase it.
2. Keep a close eye on your analytics
If you're like most bloggers, you're probably using site analytics already. These basic stats can show you which demographics are viewing your content. Analytical data can also tell you how users interact with your website.
Google Analytics is a popular option:
Using analytics can help you focus on your target audience. You probably have an idea of who that is already. Nevertheless, your visitors aren't static. They might shift demographics or interests over time. Understanding how your fan base evolves can help you target your affiliate ads and content more effectively.
We highly recommend that you regularly check your analytics. Try to make it a part of your marketing schedule – that way, you're less likely to be caught off guard by any changes.
You may also want to take note of which content performs the best. If you see that your visitors are big fans of your videos, for example, consider placing affiliate links in the descriptions. This strategy will make your URLs more likely to reach interested users.
3. Engage with users about the products
Encouraging engagement with your content is essential. That's because it can help your users feel more connected to your brand. The same principle applies to whichever products you're selling.
Communicating with shoppers has a few other benefits, too. If you can answer their questions, for example, you'll show you're familiar with the products. In turn, this can make users trust that you're not just advertising items for the sake of commissions.
Engagement can also help boost your Search Engine Optimization (SEO). Better SEO means a higher ranking in search results, which can attract more potential buyers from organic traffic.
However, your users may not always be ready to start conversations. That's why we recommend helping them along with clear Calls To Action (CTAs).
Even simple phrases can encourage more engagement, such as:
Do you have any questions about how this product works?
What's your favorite way to use this tool?
How would you use this to boost your skills?
As a bonus, you might also find that this strategy helps build your brand. Consistent, clear communication about products in your niche can help establish you as an expert. If you can keep up with the most up-to-date developments, you might be able to establish yourself as a thought leader, too.
4. Integrate links as naturally as possible
Links are the basic building blocks of any affiliate marketing strategy – you probably don't need us to tell you that! However, your visitors probably won't respond to just any sales pitch. Thus, making sales isn't always as simple as posting a URL.
We recommend placing your affiliate links only where they make sense. If they feel unnatural, your users may not appreciate the forced sales attempts. As a consequence, your audience might be less likely to follow through with purchases.
One way to integrate your links is by using a 'create first, link later' approach. You start by producing your content as you usually would. Then, if you feel like an affiliate product could pair well with it, you can go back and make that addition.
This method helps make sure that your sales don't get in the way of your content. Keeping your focus on what visitors came for in the first place may make them more receptive to the products, too.
While a natural link addition is essential, we don't recommend that you bury the affiliate lead. Clearly stating your policy can help build trust.
For example, you can include simple affiliate link disclaimers in your articles:

Openly stating that you profit from affiliate sales rather than hiding the disclaimer in a wall of text can showcase transparency. Moreover, it may also prevent visitors from feeling misled.
5. Use the power of a mailing list
When it comes to affiliate marketing strategies, mailing lists are vital tools. That's because they offer two benefits: growing your audience and keeping them in the loop.
The first benefit is relatively straightforward. The more audience members you have, the more opportunities there are to make sales. Furthermore, you can keep recipients informed while advertising affiliate products within your newsletters.
If you want to use a more subtle approach, you could prioritize sharing popular content with affiliate links. That way, there's a higher chance that users who click through will interact with the content and see your URLs.
You may also want to try segmenting your audience. For example, let's say one product performs exceptionally well with one demographic. You could send out an email featuring that product to people who fit that demographic. This strategy can help target your efforts while limiting unnecessary advertising to uninterested users.
However, you can also try a more forward approach. Consider adding a section to your newsletter that exists solely to showcase an affiliate product. A dedicated area such as this can give you the space to sell the item's benefits. Furthermore, users may also appreciate the consistent approach.
6. Consider collaborating with fellow affiliates
Affiliate marketing is a big field. The chances are you're not the only one selling similar items within your niche. You might even be selling the same individual product! Although it may seem counterintuitive to team up with the competition, it can actually offer you many benefits.
For example, collaborations are effective ways to reach new audiences. Similar bloggers may have fan bases that would be interested in your work, too. Collaboration means you can access them and have more chances to sell a product.
Collaboration can also diversify the content you're using to promote your links. A new face in your videos can help catch a visitor's eye and lead them to your URLs. The same principle goes for your partner, meaning this method can be one of the most mutually beneficial affiliate marketing strategies.
If you're looking for similar-minded affiliates to partner with, we recommend doing a bit of research. Look for other high-performing affiliates in your niche – even a quick Google search will do.
Then, look for influencers who are open to collaborations, such as Chubby Diaries: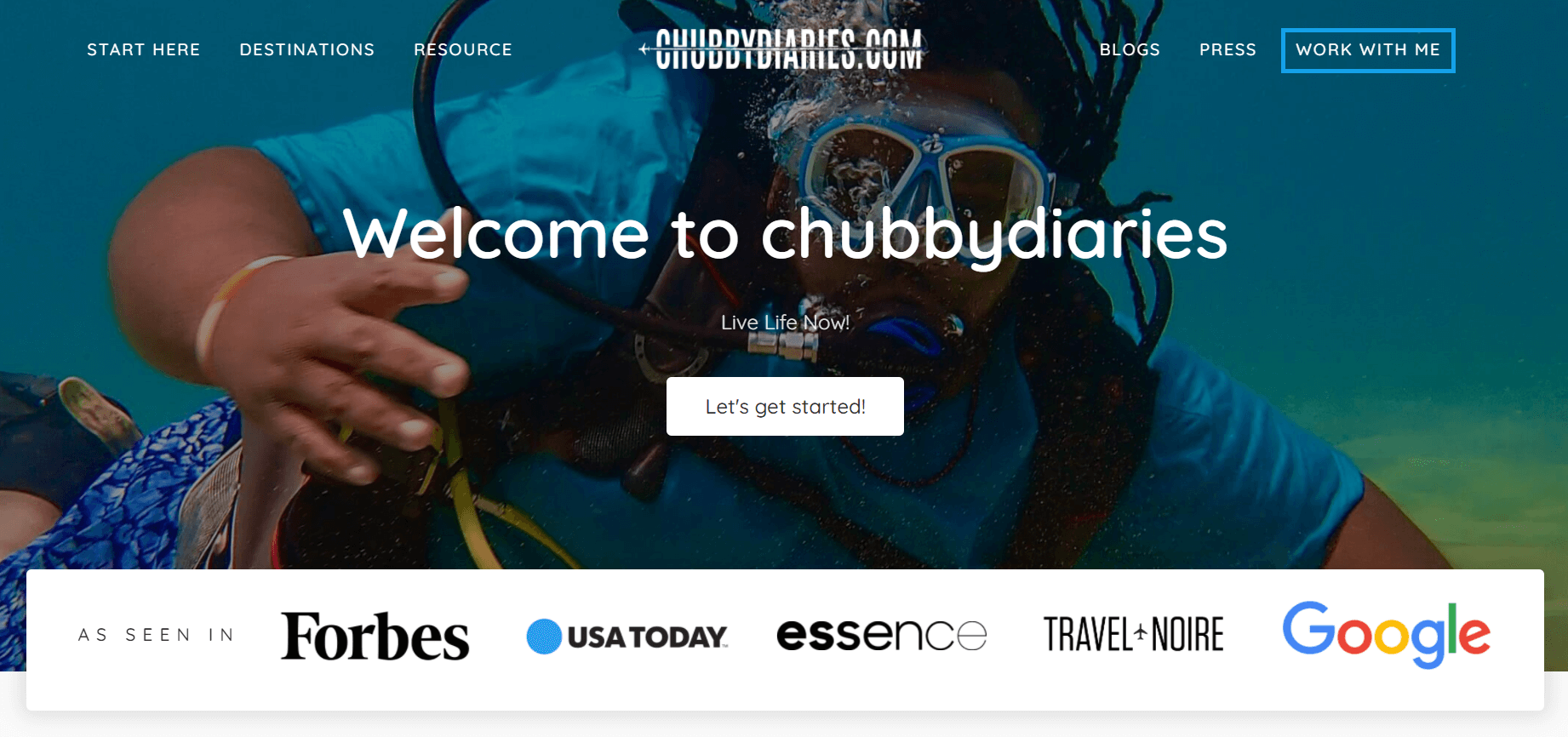 Nevertheless, keep in mind that content creation with others can be hard to monitor. A chaotic approach may lead to forgotten links or over-promoting. Thus, you may want to consider using project management tools to keep everyone on the same page.
7. Advertise your URLs on several platforms
We've already covered how more visible affiliate links can lead to more sales. However, you don't have to constrain that strategy to your website. Try to get your URLs posted on as many social media platforms as possible to maximize your reach.
In addition to more selling opportunities, this approach can also help your content feel more cohesive. Promoting only on your website and not on your social media can miss out on potential purchases and makes your web presence feel disconnected.
However, you should probably do a bit more than simply post links. Try to make your URLs as accessible as possible on your platforms.
A tool such as Linktree can help:
Linktree consolidates your links in one area, so it may produce a smoother experience for users. It can also help you work efficiently by advertising more than one URL simultaneously.
Moreover, you might also want to find a way to streamline your social media strategy. Tools such as Revive Old Posts can automatically send your website's content to your various social media platforms. That way, you can make sure that your affiliate links are also being publicized regularly.
8. Don't slack on search engine optimization
SEO is one of the most important sources of traffic for most websites. However, you should consider keeping an extra close eye on it as an influencer. It's essential that each post with affiliate links is optimized to reach the most people.
One way to optimize your content is by using an SEO plugin. It is a helpful tool for guiding your work and focusing on maximum exposure.
However, you can also boost affiliate sales by conducting in-depth keyword research. Keywords can clue you into what your users are actually searching for.
We recommend using a tool such as Google Keyword Planner: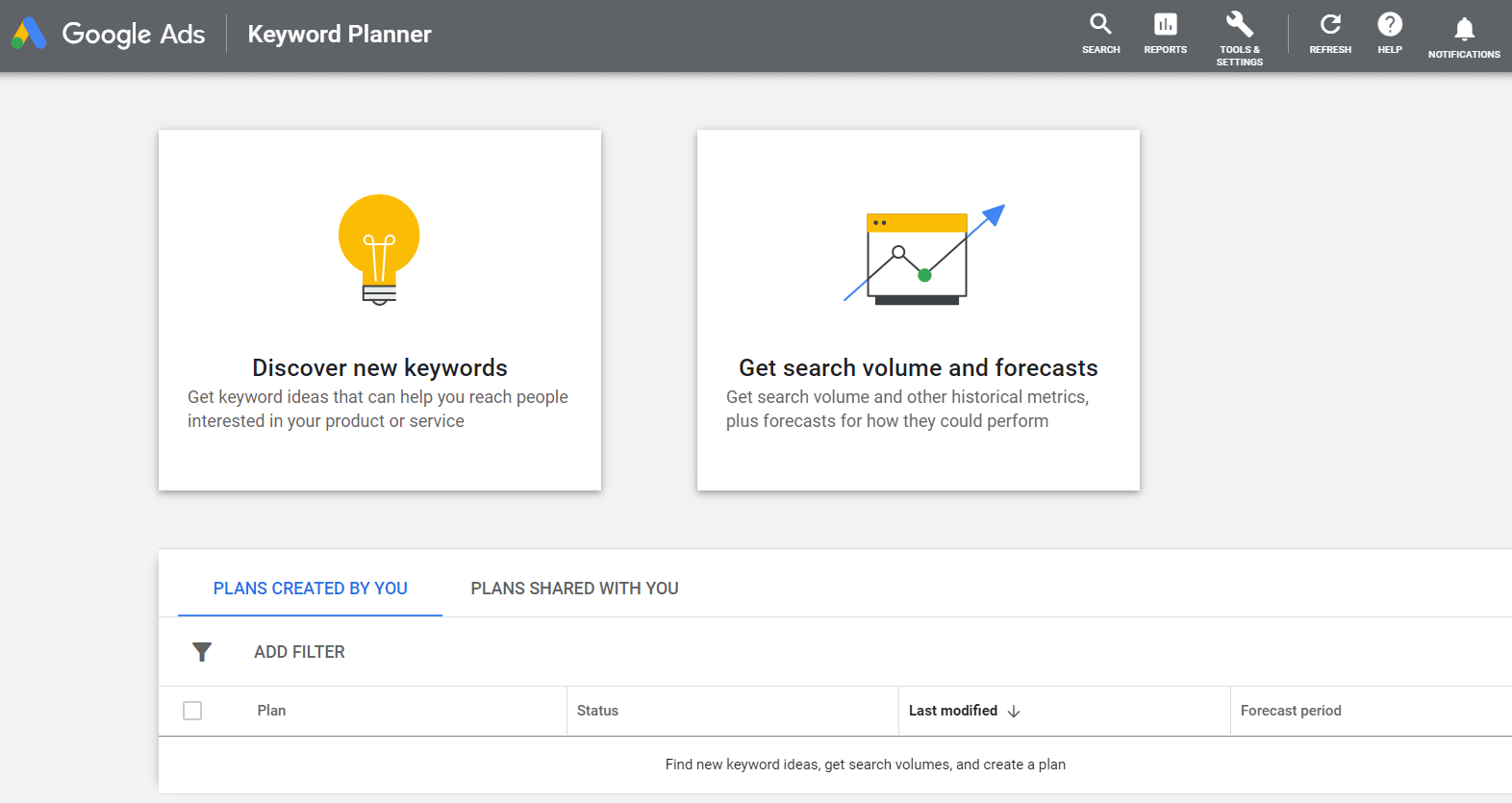 With its help, you can get a better idea of your audience's problems and desires. You can then use this information to frame your product as that specific solution, thus using one of the best affiliate marketing strategies available.
Try to pay attention to a keyword's search volume and competition. High-ranking keywords may be popular, but they also come with many other affiliates targeting the same content. Therefore, we recommend you aim for a keyword that has low to medium competition.
9. Continue to build trust with your audience
Many successful affiliate marketing strategies rely on trust. After all, you're recommending products to your readers. If you want to see your affiliate sales grow, we highly recommend continuing to foster a solid relationship with your audience.
A simple way to do this is by only advertising products you have used and can vouch for. Doing this helps ensure that you're only selling high-quality items. It also better equips you to speak on them as an expert. Therefore, this authenticity may help visitors trust your affiliate partners more.
Moreover, try to integrate this product experience into your content. Whether you're talking about an item on a podcast or using it during a live stream, demonstrating your familiarity can help drive more sales.
For example, the YouTuber Tingting is an Amazon affiliate who chooses to showcase products she's used on camera (her store):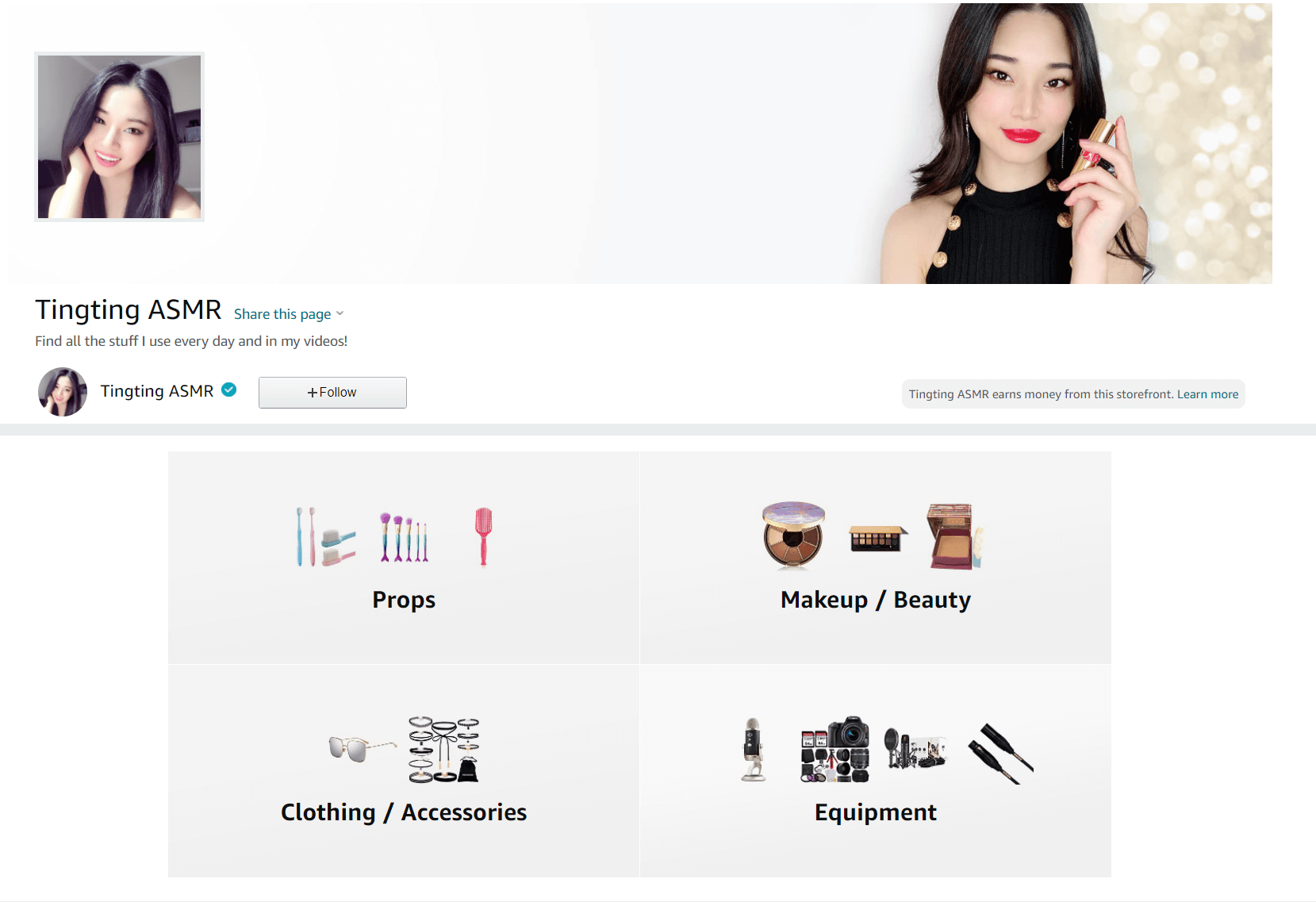 However, authentic promotion isn't just about what you advertise: it's also about what you don't. Don't be afraid to say no to products that aren't a good match for your brand. Doing this can help show your audience that you carefully curate your recommendations.
10. Experiment with different marketing mediums
As a content creator, you probably have a medium that you rely on the most. Maybe you prefer written articles or long-form podcasts. Whichever medium you choose, there's something to be said for getting out of your comfort zone.
Affiliate links sprinkled across other content types can help diversify your marketing. Users then have more chances to hear your sales pitch. As such, you may want to consider new ways of advertising those URLs. Some examples:
Video tutorials showing you using a product
Question and answer sessions to provide a deep dive on the tool
Galleries of high-quality images to offer a close look at different items
We also recommend you not to be afraid to mix and match different formats and content types. Doing this can help you understand what your audience responds to best and prevent them from getting bored.
Conclusion
Advertising a partner's products isn't always easy. Fortunately, using good affiliate marketing strategies can simplify the process. By understanding how each method can boost your sales, you can start taking advantage of these effective tips and tricks.
In this article, we walked you through the different ways to improve your affiliate marketing strategy. We discussed methods to connect with your audience, polish your research, and leverage helpful tools to increase your conversions.
Do you have any questions about these affiliate marketing strategies? Let us know in the comments section below!
…
Don't forget to join our crash course on speeding up your WordPress site. Learn more below: